Celebrating Black History Month —Historical Person in Focus: Bessie Coleman 1892-1926 Bessie Coleman soared across the sky as the first woman of African American and Native American descent to earn her pilot's license in the U.S. Known for performing flying tricks, Coleman's nicknames were: "Brave Bessie," "Queen Bess," and "The Only Race Aviatrix in the World." Her goal was to encourage women and African Americans to reach their dreams – and this became her legacy. Though her life and career were cut short in a tragic plane crash, her life and legacy continue to inspire people around the world. Born in Atlanta, Texas on January 26, 1892, Bessie Coleman had twelve brothers and sisters. Her mother, Susan Coleman, was an African American maid, and her father George Coleman was a sharecropper of mixed Native American and African American descent. In 1901, her father decided to move back to Oklahoma to try to escape discrimination. Coleman's mother decided not to go with him. Instead, Coleman, her mother, and siblings stayed in Waxahachie, Texas. Coleman grew up helping her mother pick cotton and wash laundry to earn extra money. By the time she was eighteen, she saved enough money to attend the Colored Agricultural and Normal University (now Langston University) in Langston, Oklahoma. She dropped out of college after only one semester because she could no longer afford tuition. At age 23, Coleman went to live with her brothers in Chicago. She went to the Burnham School of Beauty Culture in 1915 and became a manicurist in a local barbershop. Meanwhile, her brothers served in the military during World War I and came home with stories of their time in France. Her brother John teased her because French women were allowed to learn how to fly airplanes and, in the United States, Coleman could not. Her brother's stories, along with other news of pilots in the war, inspired her to become a pilot. She applied to many flight schools across the country, but no school would take her because she was both African American and a woman. Robert Abbot, a famous African American newspaper publisher told her to move to France where she could learn how to fly. Since her application to flight schools needed to be written in French, she began taking French classes at night. Finally, Coleman was accepted at the Caudron Brothers' School of Aviation in Le Crotoy, France. She received her international pilot's license on June 15, 1921 from the Fédération Aéronautique Internationale. She then returned to the United States. Click the link to learn more about Bessie Coleman's life:
https://www.womenshistory.org/education-resources/biographies/bessie-coleman
By Kerri Lee Alexander, NWHM Fellow, 2018 | Updated December 2022 by Rebecca Ljungren, Education Programs Manager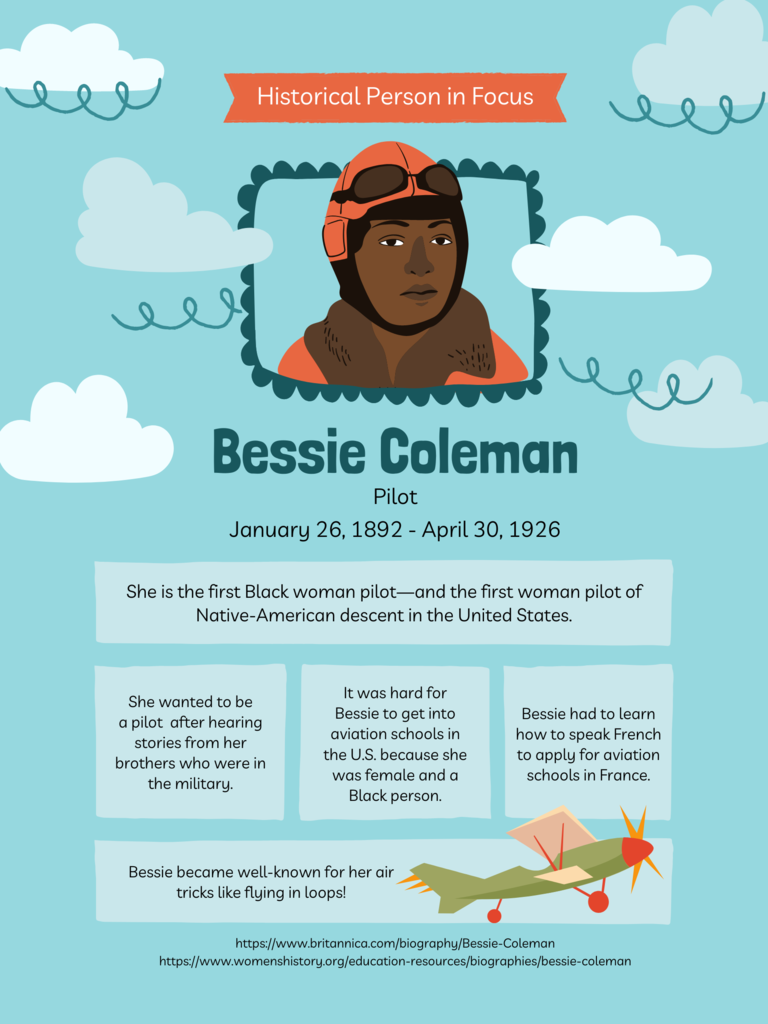 Today, 5th graders from Monte Vista Elementary School presented a bill they helped draft with New Mexico State Sen. Bill Soules. Students presented SB 188, before the Senate Committee during their legislative session. These young lobbyists asked legislators to consider adopting the smell of green chile roasting in the fall as New Mexico's official aroma. Students answered questions from the committee and highlighted that New Mexico would be the first state with an official aroma, which would help boost tourism. The bill passed unanimously, 5-0 by the committee and moves on. What a victory! Great job, students! More about SB 188: Senate Bill 188 establishes the official state aroma of New Mexico as the smell of green chile roasting in the fall. This bill does not contain an effective date and, as a result, would go into effect June 16, 2023, (90 days after the Legislature adjourns) if signed into law. No fiscal impact.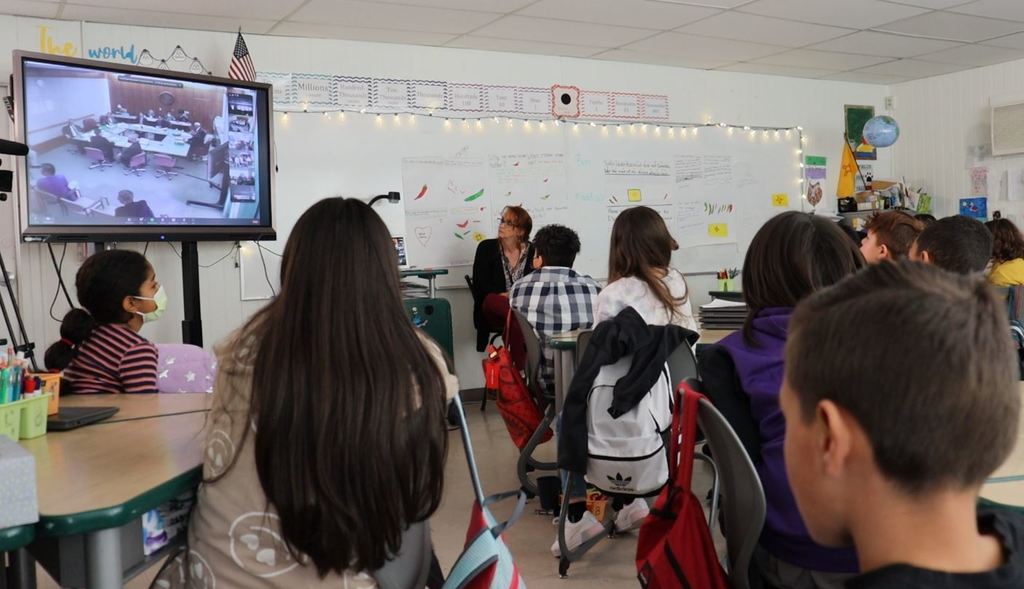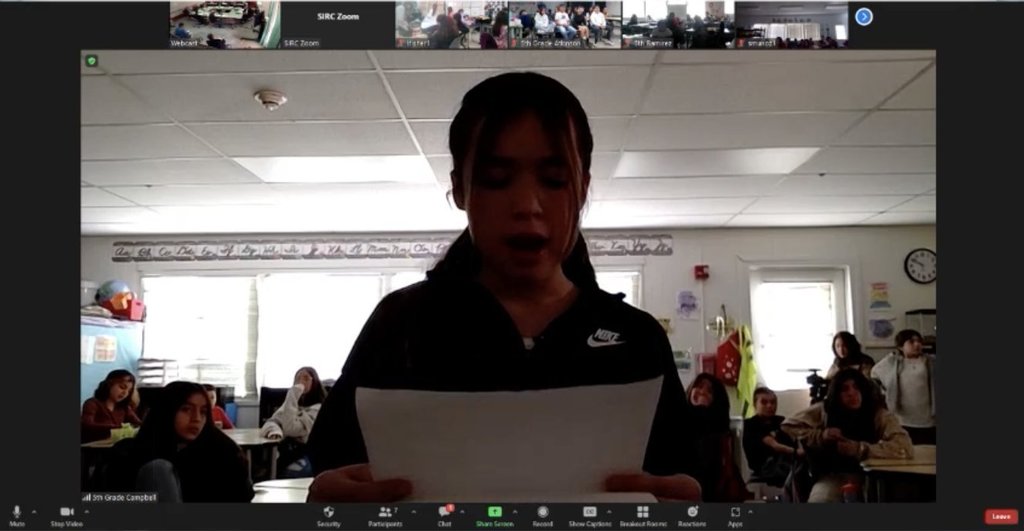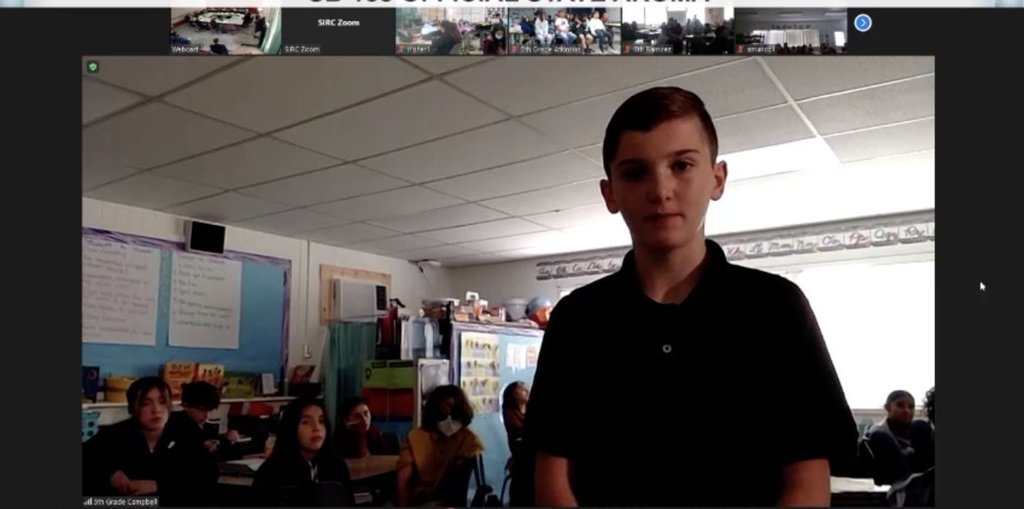 Winter Weather Forecast Prompts Delays, Cancelations — Inclement weather in Monday night's forecast, expected into Tuesday, has prompted administrators at Las Cruces Public Schools to call a two-hour delay for all students and staff on Tuesday, Jan. 24. According to officials, bus schedules have been adjusted to accommodate the late start. Tuesday's delay prompted the cancelation of all morning DD preschool classes. A girls basketball game Monday night between Mayfield and Alamogordo was also canceled and rescheduled for Tuesday, Jan. 24. The ninth-grade teams will play at 4 p.m., followed by junior varsity at 5:30 p.m. and varsity at 7 p.m. All games will be held at Mayfield High School. Wrestling matches between Mayfield, Las Cruces and Organ Mountain high schools set for Tuesday, Jan. 24 at Mayfield were rescheduled for Wednesday, Jan. 25 at 5 p.m. Updates will be posted on the LCPS Athletics page, linked here. For any additional weather delays or updates, please monitor the LCPS homepage,
www.lcps.net
.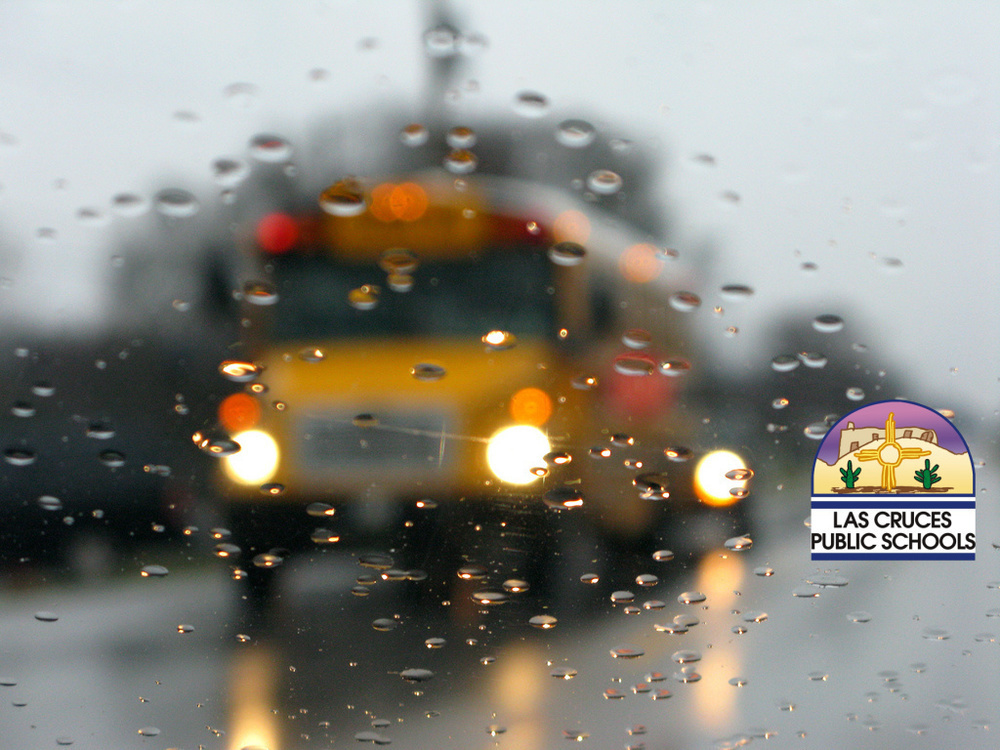 After a two year hiatus, the El Paso Symphony Youth Orchestras - EPSYO held its annual Concerto Competition on Monday, January 16, 2023. Las Cruces HS sophomore violinist, Chloe Morris, has won this year's competition. As grand prize winner, she will be performing the 1st movement of Édouard Lalo's Symphonie Espagnole on March 26 at the EPSYO Side by Side concert with the El Paso Symphony Orchestra. The competition was open to all musicians under the age of 23. BRAVA, CHLOE!!! Las Cruces Public Schools is so very proud of you! #wearelcps p/c: Lauren Morris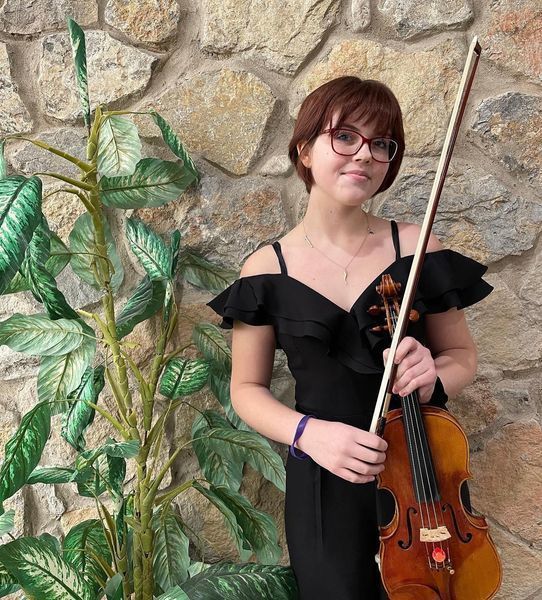 The Southern New Mexico Trail Alliance brings you the 11th annual running of the Sierra Vista Trail Runs. This event serves as the primary fundraiser for the Southern New Mexico Trail Alliance, a 501 (c)(3) corporation. The 2023 event will include the 50k, half-marathon, 10k, 5k, and 1-mile kids fun run. We keep the registration cost low to make trail racing financially accessible for more people. As always, race registration requires the donation of an old pair of shoes. Bring the shoes to packet pick up or race day. Donated shoes will be offered to the Mesilla Valley Community of Hope,
http://www.mvcommunityofhope.org/
. Click here to register:
https://ultrasignup.com/register.aspx?did=98958
Runners in all distances get a pair of race socks. Sizes cannot be guaranteed after February 18, 2023. Extras will be ordered but sizes and quantities will be limited and available on a first come first serve basis. There will be awards for top three men and women in all distances. Post race food will be provided. All races will take place on Saturday, March 11, 2023. All distances will start at the Sierra Norte trailhead off of Dripping Springs Road. The 50k will begin at 7:00am The half-marathon will begin at 8:00am. The 10k will begin at 9:00am. The 5k will begin at 8:30am. The cutoff time to finish will be 5:00 pm. All proceeds will be donated to the Southern New Mexico Trail Alliance to preserve and enhance the trails and outdoor recreation in the area. Visit us at snmta.org. Funds support trail work days, trail building workshops, training, and tools. Visit our website, Sierra Vista Trail Runs, for more information. Review the race manual at prior to the event. Come join us for a fun, low key community trail event. Banner photo of Ian Maddieson courtesy of Organ Mountain Outfitters, one of the past partners. The Sierra Vista Trail Runs is authorized under a Special Recreation Permit from the Bureau of Land Management Packet Pickup Packet pickup will be Friday, March 10, from 4-7 PM at Bluebird Running Company 300 N Main St, 2nd floor, Las Cruces, NM 88001


After School Programs- Good evening Loma Heights families. A friendly reminder that you can still sign up for after-school programs. These will begin on Monday January 23rd. Two new programs have opened up for 3-5th grade. Thank you.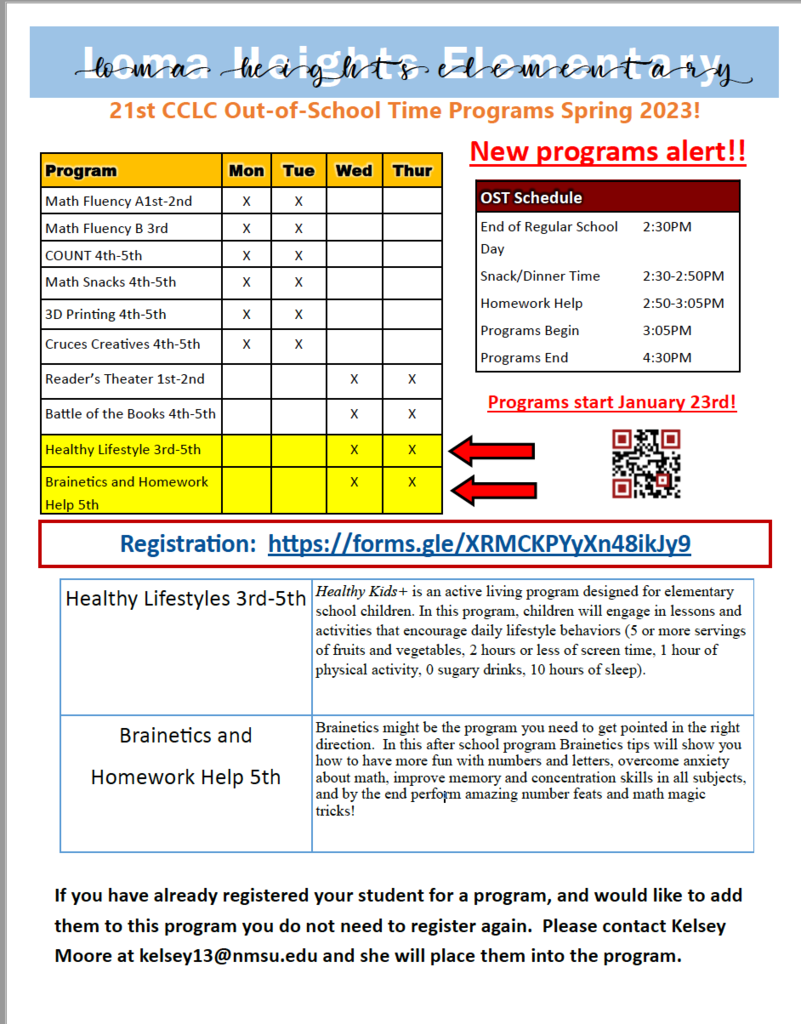 Linda Peterson, Kath Natzke, Linda Tetu, Ceal Sayah, Linda Acosta, Ana Fe Coste, and Genevieve Trujillo participated in the Las Margaritas de Las Cruces Golf Tournament on November 3 and 4, to promote golfing for women. With money raised from the tournament, the team collectively decided to donate to the Mckinney-Vento Project Link Program at Las Cruces Public Schools. The group donated $1,400 to the program to purchase snacks, clothing, shoes, and supplies for students facing homelessness. The group is looking forward to keeping this donation going year after year. LCPS is thankful for this partnership as the funds will go directly towards helping students make sure they have what they need to be successful in the classroom. Thank you! Caption (L-R): Linda Peterson, Kath Natzke, Linda Tetu, Ceal Sayah, Linda Acosta, Mia Hope, Ana Fe Coste, and Genevieve Trujillo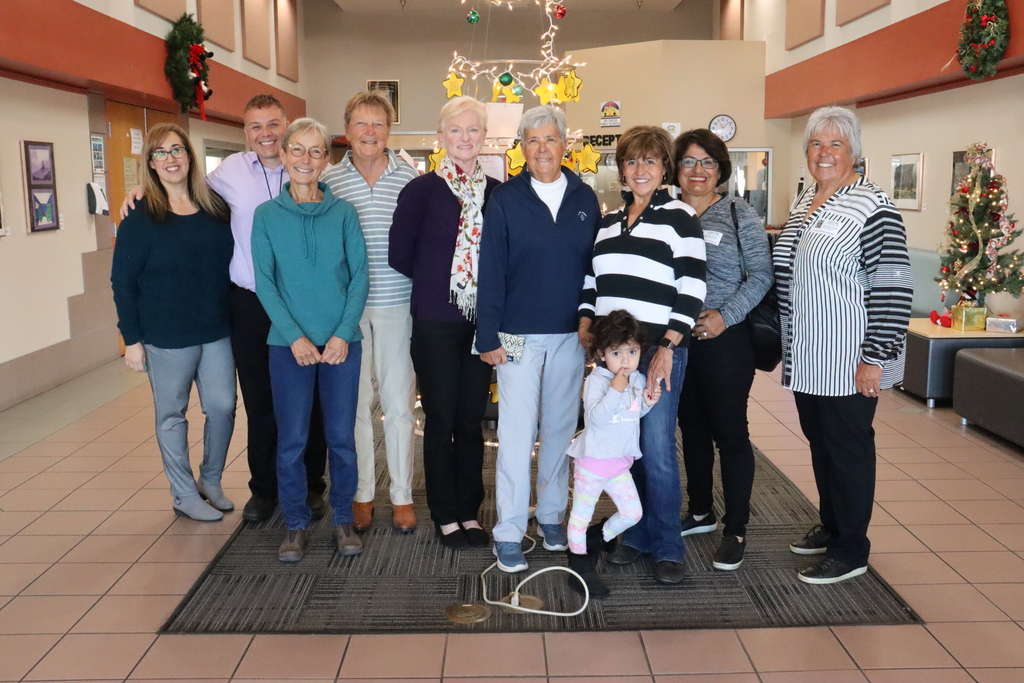 Dear Friends of Las Cruces Public Schools, Together we can help make the season bright by sponsoring an LCPS student in the Migrant Education or McKinny-Vento Program. With your support, we can make this holiday a truly special one for them. A Star Tree has been set up in the front lobby of the Dr. Karen M. Trujillo Administration Complex, 505 S. Main, Loretto Town Centre, Suite 249. The tree has star ornaments with the names of students along with their clothing sizes and Christmas wish. Please select a star(s) and bring it to the receptionist or Federal Programs Department to register your star(s). Gifts will need to be wrapped and returned to the Federal Programs Department by 5:00 p.m., Monday, December 12, 2022. We appreciate your interest and support in participating in the 2022 Migrant Education "Wish Upon a Star" gift-giving project. To learn more or to refer others to join our efforts, please contact Iggy Campos in the Department of Federal Programs at 527-6643 or
icampos@lcps.net
. Happy Holidays! LCPS Migrant Education Programs Las Cruces Public Schools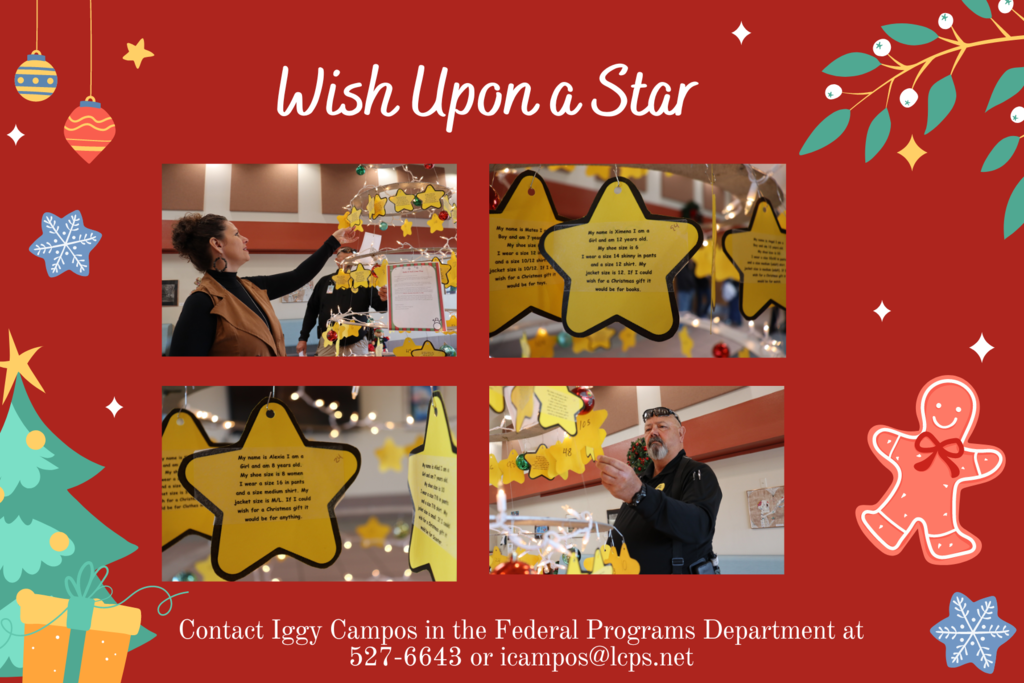 Las Cruces Public Schools will be collecting general hygiene donations via drive-thru from 11am-2pm today out front of the Karen M. Trujillo Administration Complex to supply Care Kits for Kids to help support LCPS students. Please stop by to help support this great cause.

From October 17 to November 4, you can help make a huge difference in the lives of Las Cruces Public Schools high school students! Our healthcare community is proud to come together to support the Las Cruces Public Schools Foundation, Inc. Care Kits for Kids personal hygiene supply drive. See the image for the two ways in which you can support this great cause. Drop-off bins will be located in the main lobbies of MountainView Regional Medical Center and Three Crosses Regional Hospital, and at Central Office in the Karen M. Trujillo Administration Complex. #MakingCommuntiesHealthier #CareKits #ForKids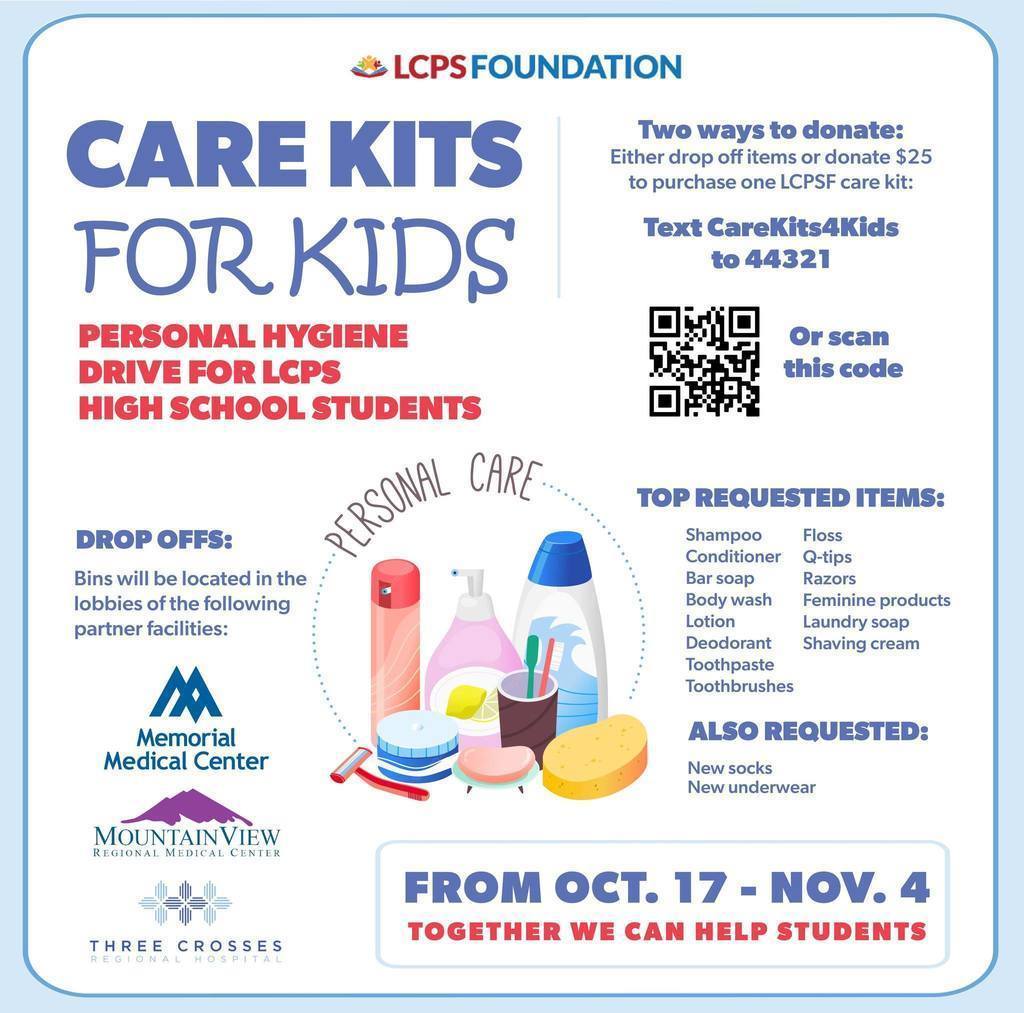 Students get ready for the return of the Las Cruces Space Festival poster contest!! The Las Cruces Space Festival is an annual celebration of space-related activity and interest in southern New Mexico and beyond. The mission is 'Making Space for Everyone'. The festival is free to participate in, and open to all, with the cost of activities, presentations, displays, and exhibits all covered by sponsors. Please see the flyer for contest details. For more information, please visit: lcspacefestival.com.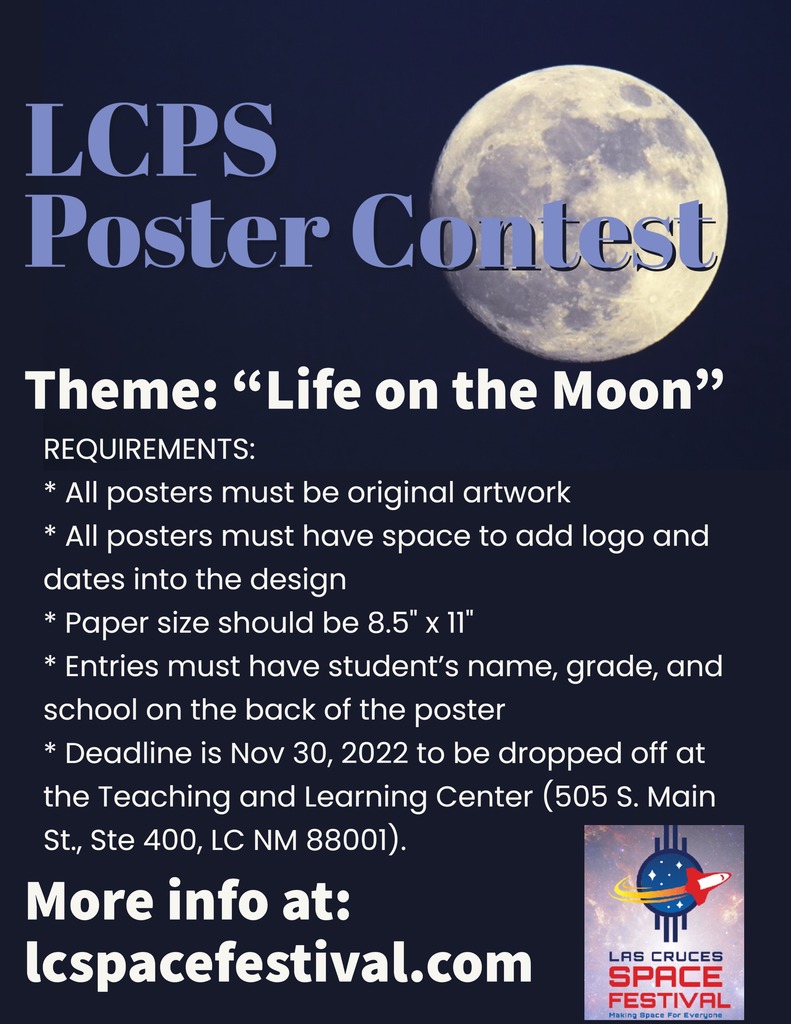 Las Cruces Public Schools was invited to the Doña Ana County Commissioners meeting today to accept the proclamation for Diabetes Awareness Month in Doña Ana County. Doña Ana County Commissioner Manuel Sanchez honored LCPS for the work and commitment the district has done to serve students and staff living with diabetes. LCPS provides a registered nurse in every school and educates staff to recognize the signs of diabetes while actively helping those living with diabetes. Doña Ana County Commissioner Shannon Reynolds stated that LCPS exemplifies what Senate Bill-48 was designed to do. Whereas, worldwide, we acknowledge November as Diabetes Awareness Month to bring attention to diabetes, and awareness of all forms of this chronic condition and over the past 10 years, the risk of developing Type 2 Diabetes has significantly increased. Today, we highlight diabetes because of its detrimental impact on our community, as pre-diabetic. Yearly, 12,484 people in New Mexico are diagnosed with diabetes; and amount adults, Type 1 Diabetes accounts for 5% of diagnosed cases. Nationwide, an estimated 110 people are diagnosed with T1D every day, half of them are children. These children live with the daily struggle of continuous monitoring, anxiety, caused by difficult-to-maintain sugar levels, and a need for timely snacks with a continuous risk of potential complications. SB-48, the Student Diabetes Management Act of 2019 provides guidelines for school districts to follow in managing students with Type 1 or Type 2 Diabetes and allows for needed training for school staff, so they can recognize early signs of a potential emergency. The requirements help standardize the type of care and management parents can expect for their children while they are at school; and whereas, statewide, free diabetes prevention or self-management program classes are available at
www.pathstohealthnm.org
. The Southern New Mexico Diabetes Outreach helps prevent and manage diabetes and hosts a monthly T1D education group for youth and a yearly conference scheduled on October 29 featuring wellness and vision screenings, talks about diabetes medications, cooking and more. Click the link for the full proclamation:
https://5il.co/1jt0l
Register at
SNMDO@snmdo.org
.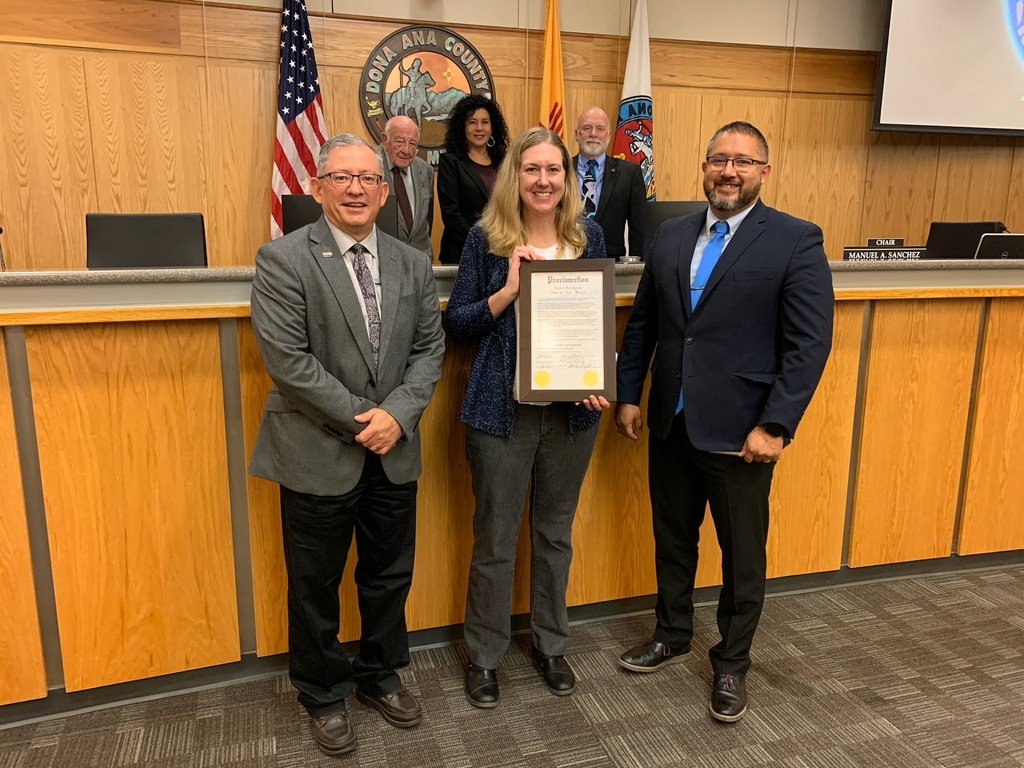 On October 25, the Doña Ana County Commissioners gave a Proclamation designating November 26, as Ronnie Granados day in Dona Ana County. Sgt. Granados passed away after a brief illness on September 12, 2022. He was a Sergeant for the Doña Ana County Sheriff Office and Public Servant who started his career in law enforcement in 1990 as a codes enforcement officer. He transferred to the Doña Ana County Sheriff's Office 5 years later, where he served with honor and integrity for the next 13 years, working as a patrol deputy, a detective, expert crime scene processor, and a member of the bike patrol. After retiring in 2008 as a sergeant, he returned four years later to do contract work as a D.A.R.E. and G.R.E.A.T. teacher. He started at Tombaugh Elementary, and then spent the next 25 years with LCPS students, Hatch Valley Public Schools and also in the Gadsden Independent School District. Being in the classroom was Ronnie's true passion, and tens of thousands of students will remember him fondly. The district is grateful for his service and sends our deepest condolences to his family. Click the link to view the proclamation:
https://5il.co/1jt0k

Today, NMSU's Department of Family and Consumer Sciences honored Anita Cummings from Las Cruces Public Schools as the Department's 2022 Outstanding Alumni. Anita is highly involved in the career and technical education (CTE) program at Las Cruces High School and is the lead for Educators Rising, an education pathway program that is designed to encourage and recruit students to come back to our district to become educators and give back to their community. The goal is to raise up a generation of teachers that understand the needs of our community. NMSU's College of Agricultural, Consumer, and Environmental Sciences hosted the Homecoming Recognition Breakfast for NMSU alumni on October 21.

This week, the Technology Division and the Teaching & Learning CTE Team are proud to share the latest LCPS #TELLTHESTORY Exhibit. Please stop by the lobby of the Karen M. Trujillo Administration Complex sometime this week and check it out! Featured are LCPS students from 16 campuses. Special thanks to Andres Chavira and Matt Dawkins for helping set up the exhibit.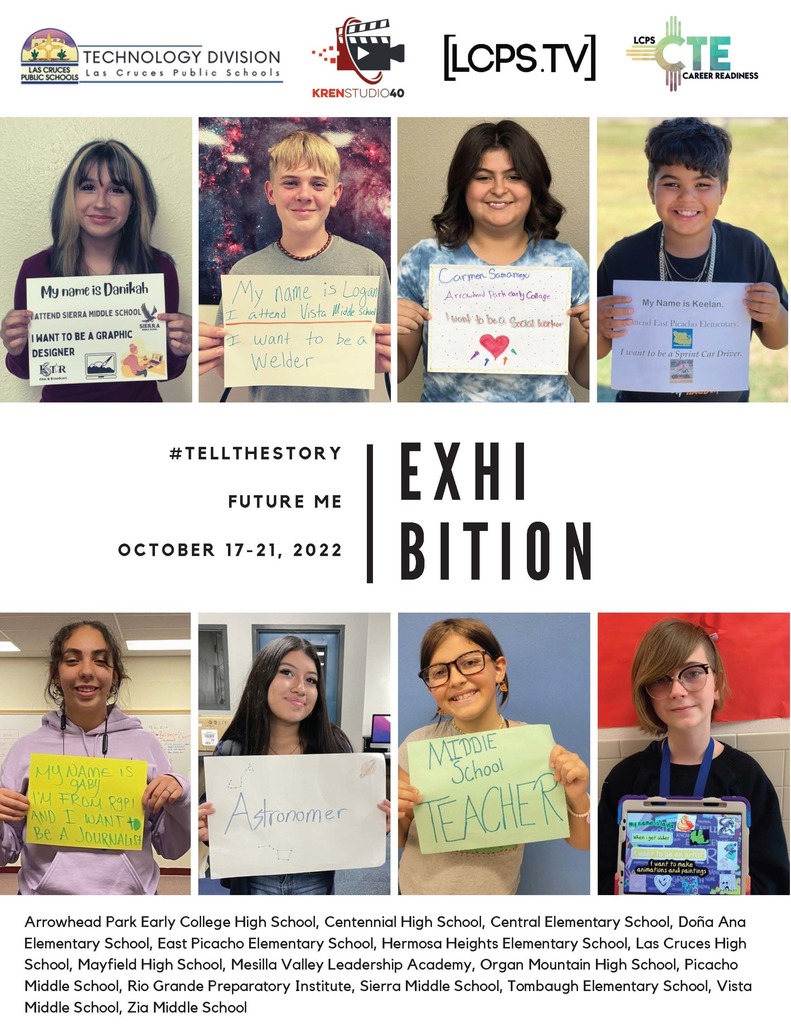 Four educators from around New Mexico were selected as finalists for the 2023 NM Teacher of the Year award! Join us in celebrating their achievements and commitment to education. Meet Catherine Turietta-Huber. Ms. Huber is in her 22nd year with Las Cruces Public Schools and teaches 5th grade at Tombaugh Elementary. She holds a Master's degree in Curriculum and Instruction, coordinates Tombaugh's annual Stargazing event and STEM week, and works to provide excellent instruction for students. Ms. Huber received the 2018 Jose M. Serna Teacher Impact Award and was a member of the 2019 Social Studies Dream Team. She also received the 2022 Teacher of the Year Award for Tombaugh Elementary and was named the 2022 Teacher of the Year for Las Cruces Public Schools. Thank you for your hard work, Ms. Huber! #2023NMTOY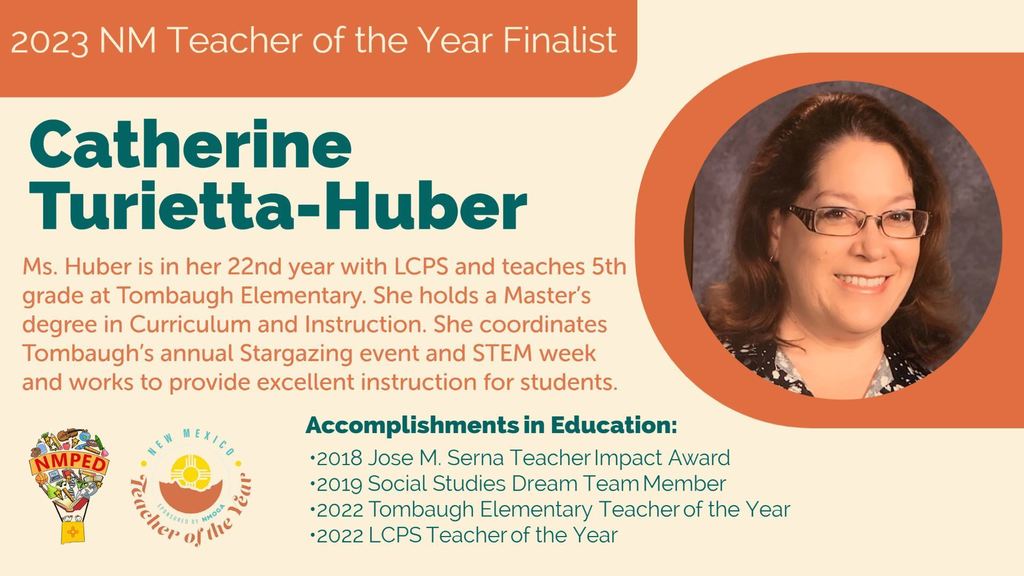 Dear Twister Families, We are launching new and exciting research-based resource to enhance our school culture program, Leader In Me. Our families are a huge part of our launch and success. You can begin this journey with us by filling out a 5-10 minute family survey. Please follow the link below to access the survey.
https://www.leaderinme.com/s/loma-heights-elementary-nm/families
If you want to learn more about this program, you can research the 7 Habits of Happy Kids or Stephen Covey, who is the creator. Respectfully, Loma Heights Leader in Me Team


From October 17 to November 4, you can help make a huge difference in the lives of Las Cruces Public Schools high school students! Our healthcare community is proud to come together to support the Las Cruces Public Schools Foundation, Inc. Care Kits for Kids personal hygiene supply drive. See the image for the two ways in which you can support this great cause. Drop-off bins will be located in the main lobbies of MountainView Regional Medical Center and Three Crosses Regional Hospital, and at Central Office in the Karen M. Trujillo Administration Complex. #MakingCommuntiesHealthier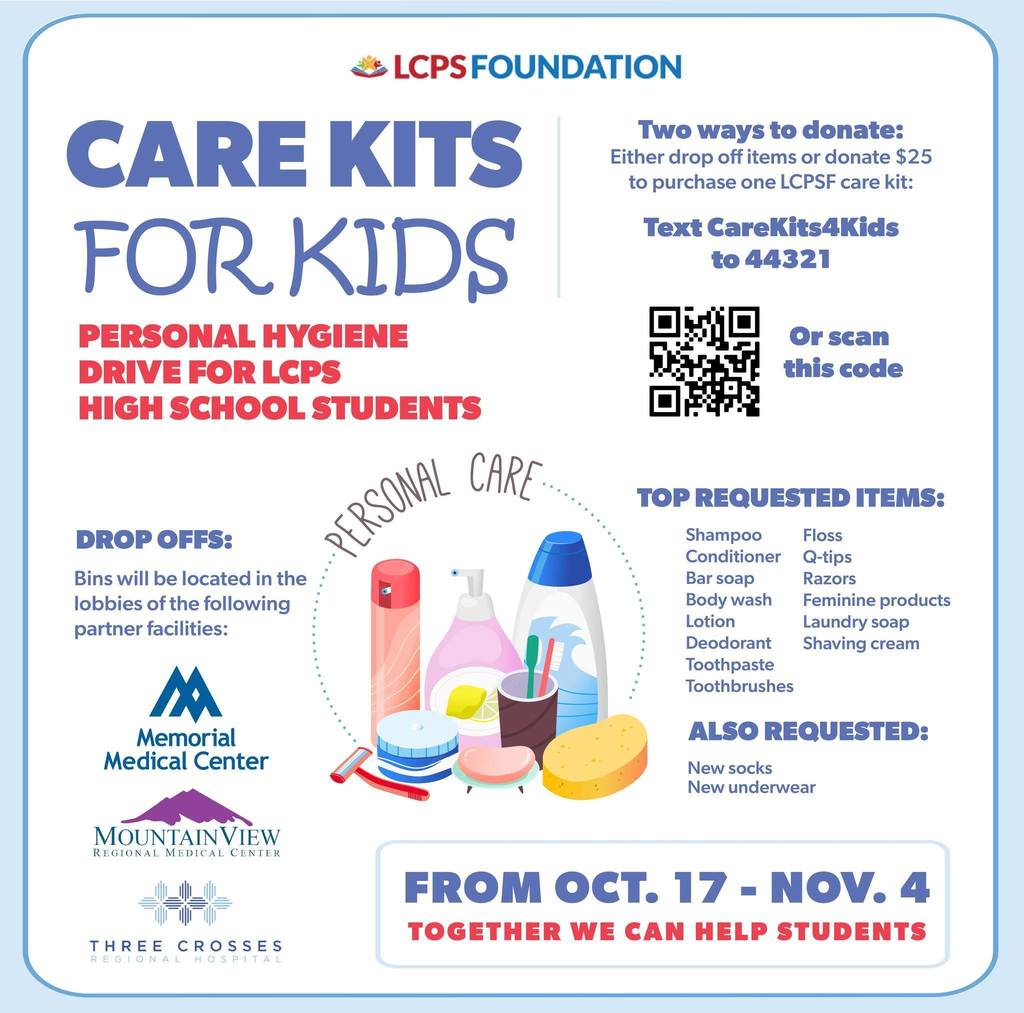 October Trivia Night is happening this Wednesday! The Las Cruces Public Schools Foundation is inviting the public to test their trivial knowledge for a good cause. Money raised will be used to help support LCPS teachers with $100 mini-grants to purchase classroom supplies. Register your teams of 3-5 participants, test your knowledge, have fun and win cash prizes to support the LCPS Foundation Supply Mini-Grant program. Trivia Night will be on October 12 at The Game 2 located at 4131 Northrise Dr. from 6:30pm-8:00pm. Click here to register:
https://lcpsf.fcsuite.com/erp/donate/list/event?event_date_id=1231
. See flyer for details.